Choosing the right materials is very important when it comes to commercial architecture. If you make the right choices you can create a building that looks great, satisfies users, and also helps the environment. Coffey Architects can help. We have a lot of experience working with different timbers, metals, concretes, and more. As a result we can give clients the very best advice.
One material that really stands out is zinc. It is a great option for roofing and cladding for facades. It is definitely a substance you should consider for your project.
Greener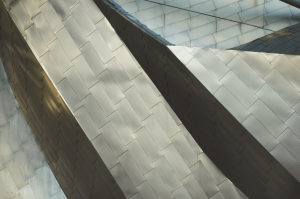 There are many reasons why zinc is a greener material than most. Firstly, it requires less energy to extract and refine than other metals. For example, it takes 50% less energy to produce than copper and an impressive 75% less than aluminium. Both of these materials are commonly used for roofing and cladding.
In addition, zinc is a long lasting material. The consensus is that roofs and facades made from it will be able to last over a century. Inside a building it can last even longer than that.
One more thing to keep in mind is that zinc is completely recyclable. That means when it comes to the end of its lifecycle, there should be no waste. It is possible to recycle the metal an infinite number of times without losing its qualities or harming the composition.
Weatherproofing
The thing that makes zinc really great for commercial architecture is the weatherproofing it offers. The metal naturally develops a protective layer that gives excellent corrosion protection. As a result it will resist water and salt very well. The surface is also very smooth so water and snow will slide off.
The protective layer on the zinc gives the metal a wonderful natural patina. It looks great, especially if you want a rustic look. Over time this will continue to develop.
Climate control
Zinc has a very special characteristic with the fact it can isolate heat from internal spaces. What this means is that during the hottest months it can actually help to keep the interiors cooler. This is great because it can reduce the reliance on air conditioning.
Sheets or tiles of zinc can feature shallow striations to increase the rigidity. This can allow them to be longer and reduce the construction costs. However, on the other hand, the panels can also be perforated or a series of different shapes to allow more creativity with the design.
Talk to us about commercial architecture and zinc
If you are designing a building and want help to choose the right materials, we are the team for you. Just have a look at our past projects to see how many different things we can work with. As well as experience employing them, we know how to combine materials effectively to produce a great design.
Contact Coffey Architects today if you would like to make a start on designing commercial architecture. Or, speak to us if you are at the design stage already and want our input. We can even help if the project is underway, offering our management skills.