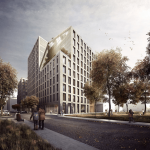 Coronavirus has changed our lives in numerous ways in the span of just a few months. From the way we work to how we go about daily routines, things are different. It is even impacting building projects and the design of our spaces. In this article, you can read about some of the changes this virus has brought about in both residential and commercial architecture.
Increasing flexibility with building designs
One thing that has become clear is how vital spaces that can adapt with ease are. This could be anything from changing a room into an office or turning an empty business property into an emergency medical site. Flexibility is something designers should consider with any future projects. This is true whether it is for a home or commercial space.
Different layouts and designs for restaurant spaces
For places like cafes, restaurants, and pubs to be able to open once again, they have had to find ways to social distance while getting as much as they can from the available space. Examples of this include ensuring tables have enough space between them, the installation of plastic screens, and making alterations to outside areas. It is looking as though coronavirus will continue to impact us for a long time. As a result, owners of these buildings need to use their spaces in the best ways.
More home offices
A huge number of people have had to change how they work. People all across the UK now work from home in order to reduce the spread of COVID-19. Despite easing restrictions, there are many who want to keep working remotely. This highlights the need for architects to look at including quiet workspaces in their designs. At the same time, they will need to look at ways to make the most of office space when most of the staff isn't actually working there.
More recognition for the value of outside space
With this pandemic, almost everyone has developed a better appreciation of the outdoors. After all, early on when there were a lot of restrictions in place, going out for a walk in nature became very hard to do. There has already been increasing demand for properties with outside space. This is something architects should keep in mind with designs.
Designing the right commercial architecture
Coffey Architects is the home of specialists with the skills to design all kinds of properties. From helping create new spaces to improving what you already have, we can work with you.
So, get in touch and tell us the details of your project. We are always excited to hear from people and see what we can come up with to produce a stunning space, whether it is a home or commercial architecture. Rest assured, the results will function just as brilliantly as the space will look.