The identity of a company is visible through the design of their workspace. In fact, design has an impact on your workers as well as anyone else who interacts with your building. Get it right and you can improve employee wellbeing and the appearance of your brand. This is why the process deserves attention to ensure a brilliant end result. With our help as an experienced commercial architecture team, this is precisely what you can accomplish with your space. We can help identify various ways to better the aesthetics and functionality of your office space.
Choose your surfaces wisely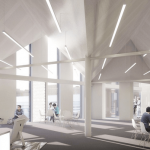 The floors, walls, and ceilings in your space all play vital roles. For starters, you could use whiteboard paint in a brainstorming room. Types of light sources and brightness can also be helpful for differentiating spaces in the workplace. An example of this is using calmer indirect lighting in quiet areas, and then brighter lights in spaces for collaboration.
When it comes to flooring, you can look at using different finishes to set areas apart. Both textural and visual differences help indicate to people that they are moving into another space. Carpets can be more inviting and better for huddle rooms whereas a hallway might have a harder surface that shows it is a pathway.
Don't forget about the acoustics
Part of improving productivity is acoustic design. As you will likely know, it can be quite hard to work in a space that is loud and disruptive. You have to consider noise levels along with privacy when designing so you can overcome with acoustical barriers. It is often that people tackle this themselves by putting on headphones or moving elsewhere to call people. This is a problem as people should not have to find ways to deal with an unnecessarily noisy environment.
There are a few different solutions for this issue. For instance, you can designate private spaces for meetings and phones as well as a huddle room. This could even include phone booths and privacy pods. Other methods include acoustic retrofits and sound masking.
Wonderful commercial architecture
There are plenty of other ideas that help create a fantastic office workplace – from accessibility to sustainability and many more. The best way to ensure you design a brilliant space that meets everyone's needs is by consulting with experts. You can discuss your ideas for your space along with what you need from us and we will work hard to create something that looks stunning and functions as you want it to.
So, don't delay and reach out to Coffey Architects today to start working with an award-wining team. We create amazing commercial architecture, whether it is a small shop or a huge building. Find out more on our website.