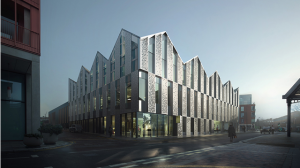 As an owner of a commercial property, you will want a design that suits the tastes of you and your clients. You can use architectural concepts to reflect your character and make your property an extension of yourself. Coffey Architects can help you achieve your dreams of owning a property that looks amazing both inside and out. This is thanks to our commercial architecture expertise.
Vital factors for a great commercial exterior
There are various things to consider when designing the exterior of a property. For example, you need to think about what clients will observe when they walk up to it. Additionally, it needs to complement the interior and also express your ideas to help you portray yourself. You can use a number of creative and technical solutions in order to create the right business environment.
Make sure the entrance is exceptional
It can be very effective to use two tints or shades when you paint a front door. Stand out even more by using bold colours that contrast. This isn't the only thing you can do to make a fresh entrance though. Try using features like rugs, plants, and stylish lighting to add to its appeal.
Materials & textures
The market is full of options in terms of materials for your commercial architecture. When making a choice, try to balance aesthetics with durability and pick something that reflects your own style. It is wise to consult with an architect on this to make sure you make a good choice for your building.
Don't forget about symmetry and balance
Factors that are very important for good exterior design are balance and symmetry. Every building's facade needs a veneer of equilibrium and balance if you want to please clients. You can use different methods to end up with an exterior that is proportional.
Coffey Architects can meet even the most challenging of project demands. We won't rest until there is an extraordinary end result. Our team has won various awards through the years we have been operating. Consequently, we have a reputation we are incredibly proud to have when it comes to providing residential and commercial architecture services.
You can discuss our work with us when you reach out. Get started today and you will be able to get the space you've always wanted.