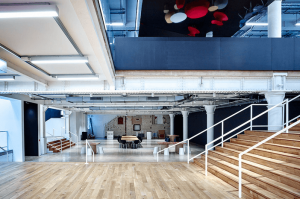 Our team is one that always goes out of its way to ensure its clients are happy. We do so by sticking by them during every stage of their projects. This is especially important with commercial architecture. After all, you need to make sure your business has a suitable building. More than that, with a good design you can enjoy even more benefits, including better brand recognition.
With guests, clients, and visitors, the lobby can make or break a first impression. Your commercial space could be a hotel, office, or even a school or hospital. Whatever the case, an excellent lobby is vital so you present yourself in the best possible light. The ideal lobby has that wow factor, as well as being inviting and welcoming.
Once you decide on the style and purposes of your lobby, you can start the decoration and design. If you need some ideas, we are happy to share some of ours below.
Natural elements
Introducing some natural elements here can be beneficial. This produces a welcoming entrance for everyone. Nature increases feelings of relaxation and lowers stress. It is a great benefit for busy areas. People could be just leaving the office or waiting for meetings. Whatever the case, a flash of timber or greenery aids you in producing a sense of calm.
Add some variety
Using lots of materials is also a good idea. Rather than using busy patterns and bright colours, designers can employ an array of substances. They can do this to create an attractive, bold effect in lobbies. Mixing concrete, wood, marble, and glass can have a stylistic impact. You can even use fabrics like tulle, silk, or velvet.
Let us help you create stylish commercial architecture
At Coffey Architects, we have quite the impressive portfolio of projects. We have taken on work for retail outlets, office fit outs, gallery spaces, and much more. By working with us, you are choosing to work with some of the most skilful and creative individuals in the industry. The relationship could produce wonderful results for you and every visitor.
So, if you need help with commercial architecture, please don't hesitate to contact us. We can assist you in creating spaces that represent your business and tick all of the right boxes when it comes to style and function.