The commercial architecture sector has been struggling for a few years now. Competition from e-commerce is making it tricky for a number of businesses. Then COVID has caused even more challenges. Some companies had no choice but to cease trading because of the lockdowns. Others will be looking at how they can adapt to a different retail experience. This could involve some big changes in the properties.
Mixed used
The focus in the future is likely going to be on making more properties mixed use. This can help to insulate the businesses in case there are further issues such as lockdowns. It can also improve the value of the buildings themselves.
With changes in rules regarding how easy it is to transform a commercial property into a residential one, it will probably become more common. Demand for housing after all is far more stable than the demand for retail or office space. You can see this in the fact that there is currently a shortage of homes and prices are rising while many high streets have empty shops.
Be creative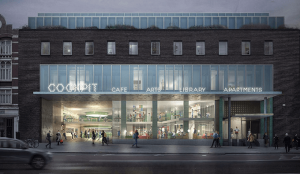 Some businesses will need to make even bigger changes to be successful post-COVID. They may need to be creative and think outside the box. It is a good idea to take the time to look at what people actually want from a retail experience.
One thing you may see is an increase in the number of shops offering cashless experiences. The idea of simply going to a shop and picking up items and walking out without paying may be baffling to some. But with new technology it is a reality. Amazon has trialled it already with their Amazon Go stores and has plans to open them around the world.
Meeting spaces will also have to change. Most of them will have been empty since the first lockdown in March 2020. Post-COVID there may be smaller demand for the spaces, especially if more people stick with working remotely. That could mean that meeting room providers need to ensure they stand out to get bookings. They may need to make the experience more like booking a at stay at a luxury hotel rather than a bland room in a business suite. They may also need to invest in new tech.
Talk to us about redesigning commercial architecture
Coffey Architects is a team you can rely on to explore creative ideas for commercial buildings. We can help you to create a new space that will help you to deal with the post-COVID world. It could be mixed use or include new tech or infrastructure to benefit the end users.
So, speak to us today about any piece of commercial architecture, from shops to offices and larger buildings. We can work closely with you throughout the design and planning stages and then be on hand to help with managing the project too.