The World Architecture Festival was held from the 4th – 6th of December 2019 in Amsterdam. During the event people had the chance to attend talks and seminars, see live presentations, and watch the awards. There were prizes in 33 categories and 16 overall prizes. They celebrated everything from commercial architect to education and even planning.
The big winner was the 2019 Building of the Year. It went to LocHal Public Library in Tilburg, Netherlands.
A wonderful winner
LocHal is a really incredible project. It began life as a locomotive hanger. Built in 1932, the building was a hallmark of the industrial history of the station district of Tilburg. It was a vital space for repairing trains. Sadly it was facing demolition until the idea to turn it into a vast, modern library. Much of the original structure was saved, including the steel frame, riveted columns, and huge glass windows.
The new library is a stunning space. As well as housing thousands of books it has space for lectures and public events. There are even labs for group study. With so many potential uses and versatile spaces, the building is a real asset for the community and arts organisations.
Shortlist
LocHal was on a shortlist of 18 projects, each of which had won a category award at WAF 2019. The winners were from a broad range of categories, such as housing, commercial architecture, infrastructure and more. For example there was a luxury hotel, an airport terminal with a wooden arch, and a major retail development in King's Cross, London.
Inspiration
The category winners and Building of the Year can inspire designs for the future. Many of them showcase unique ideas and make use of new technology. It is also great when they can celebrate sustainability and how to preserve old buildings that would have been lost forever.
A passion for commercial architecture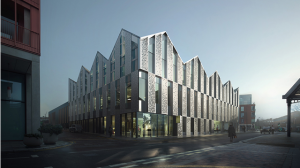 If you are thinking of a project, whether it is office regeneration or a whole new scheme, Coffey Architect can help. We have a great track record and always work to ensure our clients are happy. Find out more about us on our website or get in touch. If you decide to work with us we will support you at every stage of your project.