Commercial architecture demands its own kind of attention, especially when you compare to housing. You have a different set of requirements to meet due to the building's different purposes. Things may seem tricky at first, but it is easy to succeed with the right people helping you. Coffey Architects has been working in this field for a long time, so we can give you the support you require.
With some people returning to the office, the time has come to produce smart workplaces. These are ones capable of enticing and preserving talent. The recent pandemic has certainly changed our perspective of shared workspaces. However, there is a bright future. Contemporary office design is changing to fit the requirements of post-pandemic work settings. What we want to do in this post is talk about one of the more effective design ideas that make work spaces more enjoyable for employees.
A work space that feels like a house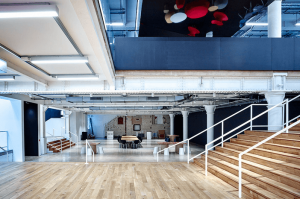 This design is known as home from home. Creating an area that feels like a house is an interesting office concept. Picture comfortable and bright sofas, lounge areas, ping-pong tables, and recreational swings. What you are doing here is making your work spot as stress-free and relaxing as possible. By producing spaces where workers have the chance to take small breaks, they can give their minds and bodies a rest. They can recharge and have a more productive day.
Cosy spots aren't solely about downtime however. You can also turn them into productive areas for group meetings and idea sharing. There can be an informal living-room sort of arrangement, with coffee tables, armchairs, and sofas. Collaborative areas produce a sense of belonging, inclusion, and togetherness among the workers. With a positive office community, you can strengthen working relationships. You can generate a mutually supportive setting for staff too.
Talk to us about re-imagining your commercial architecture
At Coffey Architects, we have a large portfolio of commercial work. It includes new-builds, office fit outs, gallery spaces, and more. We can even completely re-imagine spaces for our clients and make your buildings feel more comfortable if you are looking for a change.
So, feel free to get in touch if you need us to help you with your commercial architecture. We can design an office all of your staff will enjoy spending time in.